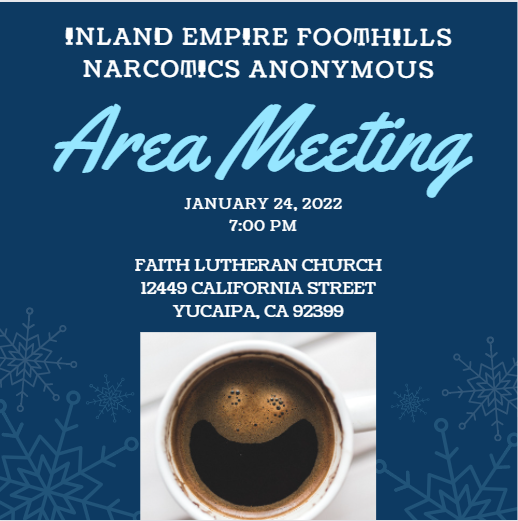 The Inland Empire Foothills Area Service Committee (ASC) Meeting starts at 7:00PM and is held on the
4th Monday of the month at 12449 California Street, Yucaipa, CA, 92399.
Literature Order Form click here
So Cal Region Service Conference Guidelines click here
Spanish Speaking Car Motion click here
Corrected Cover Letter, Vision, Purpose Statements click here
WSC 2020 Summary of Decisions Part Two click here
Treasury Monthly Ledger Report click here
Venmo Meeting Income click here
Public Relations Report click here 
Virtual Meeting Coordinator Report click here
LGBTQ Monthly Report click here
Youth Committee Report click here
LGBTQ Guidelines for Review click here
The meeting starts at 7:00 PM and generally lasts until the work is done. New GSR's click here and read GSR Orientation Hand Out and check in with Outreach Chair Person.    The ASC made up of the Group Service Representatives (GSR's) who are elected by the groups that make up the Inland Empire Foothills Area, as well as the Regional and Alternate Regional Committee Members (RCM), Area Secretary and Alternate Secretary, Treasurer and Vice Treasurer, Chair and Vice Chair, as well as the Chairpersons of all the standing subcommittees.
Area Service Guidelines (click here)